So I wake up early in the morning and while preparing my hot cappuccino, I get excited wondering where my websites are ranking on the search engines with those new keywords today. I turn on my computer, log in to my Advanced Web Ranking account and go directly to my ranking charts… Believe me, there's no better feeling than watching those graphs displaying my website ranking higher every day.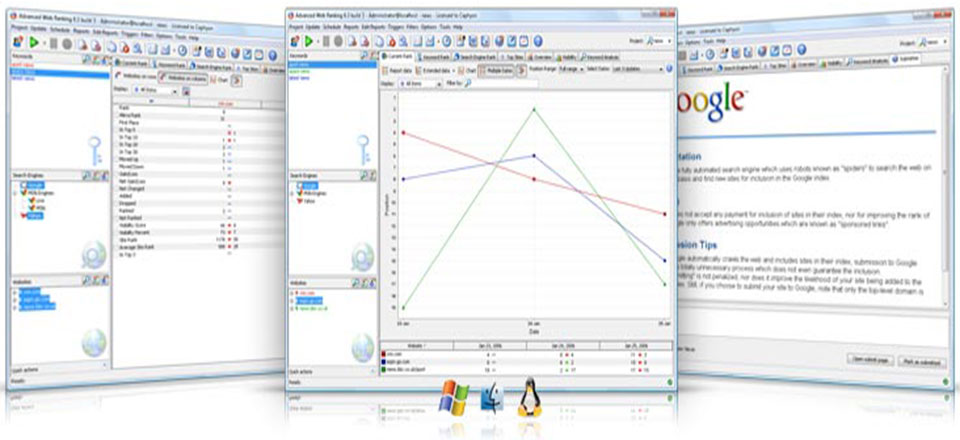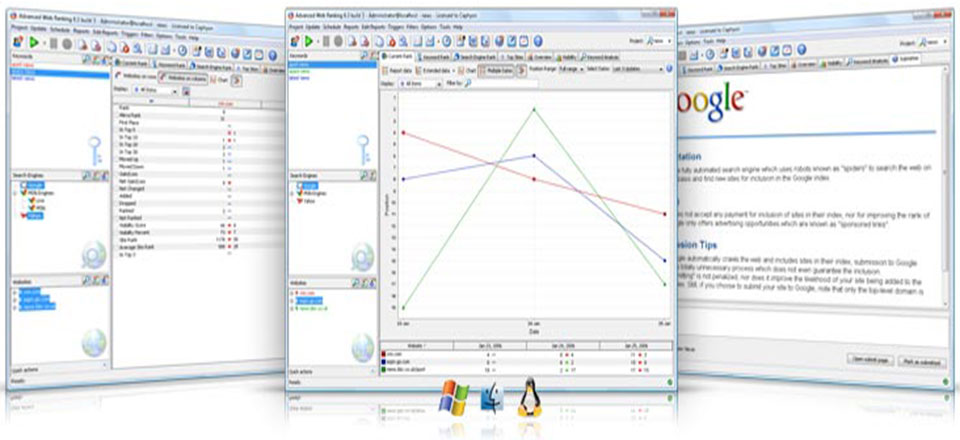 While I'm there, with a click of a button, I also get to spy on my competition and see what keywords they are trying to rank for. Sometimes I discover they are trying to rank for the same keywords I am. Now I can make an informed decision whether I should keep trying to rank for these keywords or simply try some new ones. Anyway, it's so easy to find profitable, easy to rank keywords with this search engine ranking software!
First Thing's First… Find The Right Keywords!
Since keyword research is the most important thing you should do before trying to rank your websites high on the search engines, the first thing I do is find the right keywords. In the old days, I used to do this manually and it was, well, time consuming and tedious! It was plain boring. Today, I use Advanced Web Ranking tools that makes things easy and fun. For example, I use the Keyword Research tool to find these excellent keywords that people use a lot to search for the products and services I'm promoting on my websites.
That's the great thing about Advanced Web Ranking because it integrates so many tools in one place like Google Suggest and Wordtracker which are considered industry standard keyword research tools. This makes keyword research exciting! Before using this program, I had to do everything manually and believe me, it takes days to do the same thing Advanced Web Ranking does in hours.
There's another tool I use a lot, the Keyword Builder. If I find, through the other tools, a good keyphrase I want to target, I use the Keyword Builder to find lots of other possible combinations.
Now that I got all the keywords I want to rank for, to further optimize my on-page SEO, I use the Keyword Analyzer tool to find the right keyword density and occurrences in the anchor texts. I can also analyze and compare my sites with my competition and know exactly what to do to outrank them on the search engines.
Show Your Website To The World!
Ok, what do website owners and webmasters want MOST for their websites and blogs? TRAFFIC! That's right, without traffic, your website is dead. The best way to get traffic to any website or blog is through the search engines. Period! So now that I got my websites optimized, I have to let the search engines know they exist.
What I do is let the search engine robots and spiders that crawl the web find my website so it gets indexed as fast as possible. For this to happen, I have to submit my sites to all the search engines possible. Many people say that Google, Yahoo and Bing are enough, well, too bad for them and great for me! That's precisely why I also like to submit my sites to about 400 other search engines out there that people actually use. These have the least competition so I have better chances of getting traffic from these too. I see it this way, I simply have to take advantage of every single opportunity that produces traffic to my sites.
Advanced Web Ranking includes a very user-friendly search engine submitter that facilitates the task of submitting my websites and blogs to the 400+ search engines I talked to you about a few seconds ago so this is a very easy job that will help me get more traffic.

Another thing I like to do is find other webmasters that have websites with content relevant to mine and trade links. If you check the PR5 at the homepage of this blog you're reading, it's thanks to a link partner that has a PR6 Website. Before trading links with this website, I had a PR of 2 and was ranking pretty well on some keywords but after Google upgrading my PR to 5, I began to rank with a lot more keywords I didn't even know about. That's how important it is to find valuable link partners.
To make this job easy, I use another awesome program called Advanced Link Manger.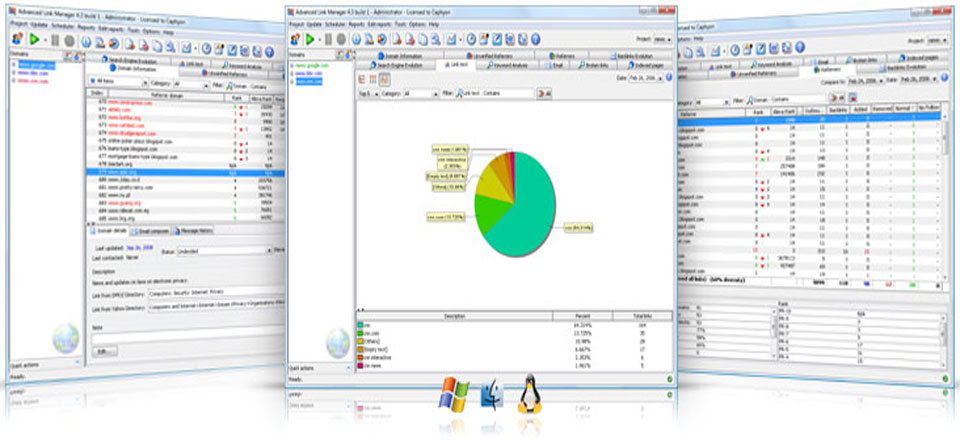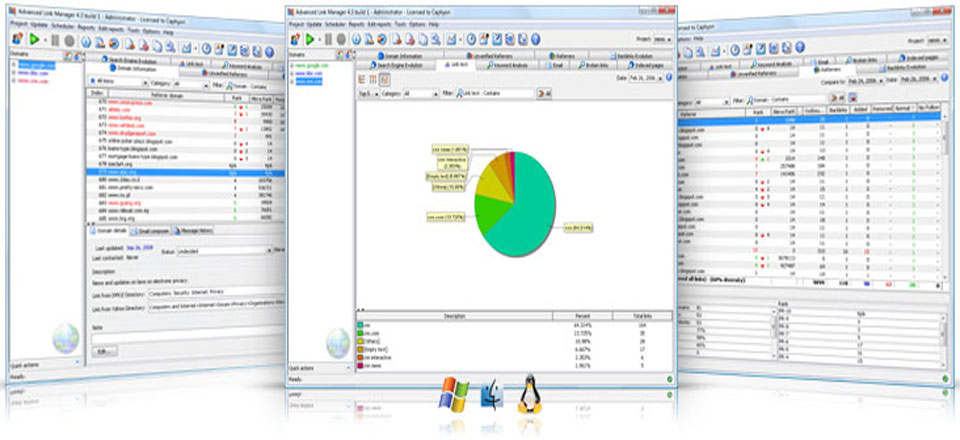 With this tool, I do several things:
I find the inbound links of the websites ranking in the top 5 places on the search engines. I'll obviously try to negotiate a link from the same websites as well.
I'm able to keep track of the link popularity of my websites and blogs by finding all the inbound links to see what others are writing about my sites and what anchor texts they are using.
I schedule the task of gathering all important information of the inbound link prospects before I negotiate trading links with them. Information such as domain age and page rank is gathered in the scheduled task during the night so when I wake up to prepare my cappuccino, I have my reports warm and ready to analyze.
It is very important for me to have valuable link partners and one way inbound links to my blogs and websites and this awesome link manager software makes this job a breeze.
Where's my Website Ranking?
Remember I told you at the beginning of this review that the first thing I do when I wake up early in the morning, while preparing my delicious cappuccino, is check my website ranking charts? Well, this is the part I like BEST because I can see all my websites and blogs climbing steeply all the way to the top of the search engines. The awesome thing is that I get to see this in a graphical way for every keyword, search engine and website.
I also schedule these tasks to be done at nights and have my reports ready in the mornings. These reports have become my morning newspaper with a big difference: I get to see many more GOOD NEWS than bad. Bad news? Yes, website rankings sometimes drop and it's normal but guess what? Advanced Web Ranking always has the right tools to take immediate action and revert that bad news to good news which would be bringing those rankings back up.
I added some of my family blogs to this program and the beauty of this is that they (my family) receive these same reports on their email too all on autopilot! Why do I mention this? Because if you have (or want to start) an SEO business, Advanced Web Ranking Enterprise is what you need. You'll want to take it to the next level bundling it with Advanced Link Manager Enterprise. Your SEO customers would be so informed and happy with you, believe me! (psst, and remember, all reports are done automatically and on autopilot!). Even if you have customers on the other side of the world, no worries, each project can use a different proxy integrated with Advanced Web Ranking and they'll get the report results they can check using their country browsers.
Conclusion
The combination of Advanced Web Ranking and Advanced Link Manager is ALL you need to have much more information than you ever thought possible. Now you'll be able to make the right decision at the right moment.
The monitoring chart system combined with data tables and ranking visibility gives you an overview of the *BIG PICTURE* and allows you to see where your websites and blogs stand.
Whatever you need to do to improve your rankings, these program have the right tool for you.
Both programs are constantly being updated to keep up with the search engine changes.
Whether you have one website or blog you want to rank with the right keywords or you have an SEO business with hundreds of client websites, these programs are robust enough to handle the job.
I'd easily pay more than twice the list price for these babies because they simply OVERDELIVER.
Whatever grading system you're used to, I give both programs an A+ or a 10!